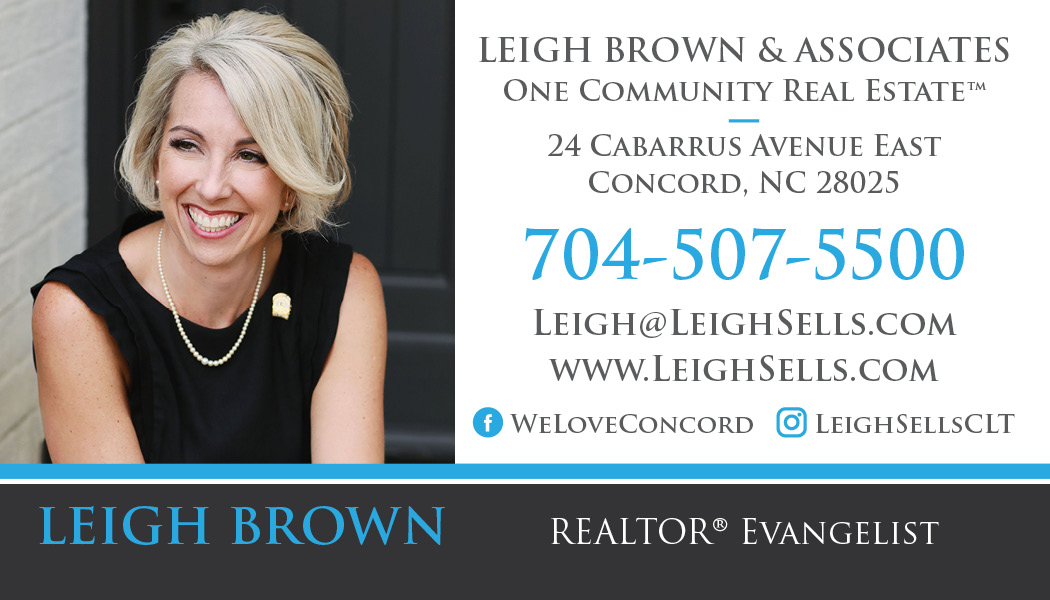 LEIGH BROWN
REALTOR®, CEO
704-507-5500
Over Leigh's years as a REALTOR,® she has lived out her motto of #MoreThanHouses – even before we had hashtags! She strives to make her community a better place through personal interactions and positive relationships on a daily basis.
Leigh is a native of Cabarrus County. She has over 20 years of real estate experience in and around Concord, selling over 3,000 properties! Her understanding and knowledge of the greater Charlotte area, Leigh is second to none.
With the launch of One Community Real Estate,™ Leigh continues her mission to support and develop REALTORS® who are both leaders and advocates in their own communities while still striving to serve buyers and sellers as their REALTOR® advocate.
She's halfway to REALTOR® Emeritus status! Please call or message her with your real estate questions and needs. Come be a part of her *NEXT* 20 years!
VIRGINIA HALTER
REALTOR®/Team Manager, CRS
OFFICE 704-979-7037
CELL 704-605-4285
With the love and support of my wonderful husband, Jonathan, I have been a full-time REALTOR® for 13 years. I joined the team in 2010 and haven't looked back. I am passionate about educating buyers and sellers on the Leigh Brown Experience and I feel that every transaction should receive the best service imaginable.
When I am not in the office I can be seen running around town or cooking up a good meal to distract me from our newly empty nest (it really is an adjustment). I am one of those elusive NC natives; the few and the proud!
ERICA HAYDEN
REALTOR®, PHM, C3P, Notary
OFFICE 704-705-7036
CELL 704-780-2118
Erica Hayden is a native New Yorker who moved to Charlotte, NC over 10 years ago from the Bronx. A graduate of the University of North Carolina at Charlotte with a BA in English, Erica has a very diversified professional background.
Her experience includes international transportation brokerage, hotel and hospitality management, dedicated client customer service, as well as Property Management.
With more than 5 years of experience in Property Management for residential and commercial clients, she has garnered several certifications including C3P Certification for Low Income Housing Tax Credit, PHM Certification for Public Housing Management, and is a Notary Public for the state of North Carolina.
Through her work in property management, Erica developed a passion for the real estate industry and earned her NC Broker license in 2014.
"My background has given me the opportunity to work with seniors, investors, the Charlotte Housing Authority, first-time home buyers, and renters. There is no demographic I don't enjoy working with!"
Katie Moore
REALTOR®
OFFICE 704-705-7036
CELL 980-866-1866
Charlie Holt
REALTOR® & Listing Consultant
OFFICE 704-705-7036
CELL 980-322-9710
Vito DiGiorgio
REALTOR®
OFFICE 704-705-7036
CELL 908-868-2743
KAYLA FETTERS
Listing & Sales Coordinator
704-688-5015
I was born and raised in the small town of China Grove, North Carolina; about 20 minutes outside of Concord, and have lived in the area my entire life. I started my real estate career with Leigh Brown almost 2 years ago as the Foreclosure Specialist and worked my way up to my current position as Transaction Coordinator. It is my goal to make sure that every transaction goes as smoothly as possible, and I strive to give every client the best service imaginable.
In my downtime, I enjoy singing in my church choir and spending time with my two beautiful little girls, Lyric Noel and Aria Grace.
PIA TORRES
Quality Control Manager / Special Events
704-979-7035
Born and raised in the great state of New York, I never thought I would leave. But then, my parents moved South and my family and I quickly followed! I have enjoyed living in Charlotte since 2014. My avid interest in real estate is what enticed me to come work with Leigh Brown & Associates and I have thoroughly enjoyed being the Quality Control Manager & Event Coordinator for the team.
Exploring Charlotte with my family fills my free time, as does spending time teaching children at our church, cooking, and reading.
L.T. SMITH
Marketing / Communications Director
704-777-2237